This is my testimony, the story of what God has been and is doing in my life.  I shared this November 6th at the Salvation Army in Thompson, Manitoba, Canada, the second in a series of six sessions on Faith & Food: Are YOU Getting Enough.  This is grace, this is what it is like to be set free.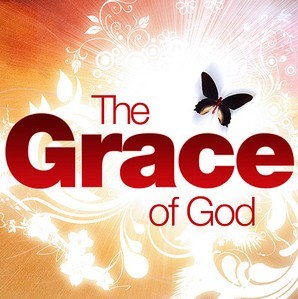 "Grace meets us where we're at but it never leaves us where it found us." Joyce Meyer
I want to talk about the grace of God tonight.  Because tonight is not about me, it's about God and His grace.  I am praying that God will use the story of His grace in my life to reveal His grace to you in your situation – because it's not about me, it's all about Him.
I cannot begin to tell you how many things I did in my life to disqualify me from standing here before you today – drugs, alcohol, sexual immorality, selfishness, pride, greed. Even when I came back into relationship with God I was still so broken many of those things continued to follow me and determine what I did. I might have been assured of my eternal salvation but I would have had no hope, no peace, no joy in this life if Christ did not set me free from my past and the things I had done, willingly, to put myself into bondage. I wonder tonight, how many people here know that turning away from sin and giving our hearts to Jesus is just the beginning? The Bible tells us to work out our salvation with fear & trembling. (Phillipians 2:12) And that's just what I've had to do – and am still doing. How many of us know that we have to work at our relationship with God – and by that I mean, how many of us know that we need to pursue God? A friend of mine recently said, "Be aware of people who preach a gospel that doesn't cost you something." We are asked to lay down our lives for the sake of the Gospel.  (Matthew 16:25) When we lay down our lives and pursue Christ, He gives us life in return.  But "working" at our relationship with God or pursuing Him does not mean:  going to church twice on Sundays, attending every mid-week service there is, volunteering and on and on. Don't misunderstand me – these things are good and I'm not saying we shouldn't do them but doing "things" is not going to give us peace, it's not going to set us free from our past, and it's not going to bring us happiness if we don't already have it. Instead peace, joy and contentment come from actively pursuing God & having an understanding of what Christ did for us at the cross and how we can live in and under His grace.  You say, 'well that's nice but I've heard that all before; I know that God has grace for me but I don't seem to experience that grace in my life'. Working out our salvation with fear and trembling means we press on to take hold of that for which Christ Jesus took hold of us. (Philipians 3:12)  And how do we do that: "Let us make every effort to enter His rest". (Hebrews 4:11) I listened to a message given by Joseph Prince where he said that the only time in the Bible when God asks us to labor is when we are told to labor to enter into His rest. Because there is no other work for us to do. Christ accomplished it all on the cross. It is finished. (John 19:28)  Not only do we labor only to enter His rest but when we labor in that way we will find Him whom our hearts seek.  You shall seek me & find me when you seek me with all your heart. I will be found by you says the Lord. (Jeremiah 29:13) I will be found you says the Lord.  I will.  Not I may but I will.
You see, just because we're "saved" or grew up in the church doesn't mean we understand grace. I grew up in the church. I sang all the songs, was filled with the Holy Spirit, attended all the services. But for various reasons that I don't have time to get into today, I began to walk away from God. And when my mother died at 51, the year I was 22, that was it for me, the deal was sealed. God hadn't come through for my mother and if He were going to come through for anyone it would have been her. You see, even though I'd grown up in the church I didn't really know God; I didn't have an understanding of who He is. "For my thoughts are not your thoughts, neither are your ways my ways," declares the LORD." (Isaiah 55:8) We need God to open our minds to understand His grace. For the message of the cross is foolishness to those who are perishing. (1 Corinthians 1:18) But God gives us wisdom, freely, (James 1:5) when we ask for it. Indeed, He sent the Holy Spirit to teach us all truth. (John 16:13)
So when I came back to God I began to pursue Him. My heart was hungry for Him. Sometimes when my heart is distracted by the things of this world, my passion for Him decreases or wanes and I need to ask Him to re-light that fire, to remind me of my first love. We love Him because He first loved us. (1 John 4:19) It never started with us and it will never continue with us. He sustains us, when we ask Him, when we draw near to Him and draw from Him. Ask and it shall be given, seek and you shall find, knock and the door will be open. (Matthew 7:7)
So I was seeking Him, my heart was drawn to Him. And He began to set me free from things. I had a lot of shame and condemnation on me when I first came back to Him. All of the things I had done, they felt a part of me, they had shaped me. I was afraid that if others in the church knew about my past they would reject me. Now most people would hide their past for that reason but I've always been different when it comes to the things I've done. I would actually tell people to see if they would reject me. It came out of my brokenness. And it was then that God birthed a passion in my heart to share with people my past and how His mercy and His grace had set me free. But the time between the planting of that dream and the time to speak it out has now been over 11 years! Because even though God began to speak freedom over me at that time – there is therefore now no condemnation for those who are in Christ (Romans 8:1) – the roots of that condemnation were deep and ran into different areas of my life. God couldn't dig up all those roots at one time because my new roots – the ones He was growing in me – were still too young, to delicate, to support me. These new roots had to grow and mature. And sometimes we're not even aware of some of those negative roots. Or we might think they were already dealt with because they are not actively causing a problem in our life. Or we might never have even considered it to be a problem.
Before I had re-surrendered my life to Christ I was addicted to finding my worth and value in relationships with men. I had become pregnant while living with my boyfriend in Scotland and chose to have an abortion. Fast forward many years later and here I was serving God. I knew His grace had set me free from my past. I had witnessed how He had set me free from the burden of condemnation in other areas of my life and I thought that the abortion was dealt with. I had married and God had blessed me with the birth of my son. I wasn't overcome with guilt or depression about the abortion, in fact I rarely thought about it. But when I started working in my current job as a registered nurse, for the first time I had to start counseling women seeking an abortion, and I started to become increasingly agitated. Inside myself, this thing I had never dealt with, the choice I had made but never faced, started to torment me. Working for a provincial institution I felt bound to offer this service and since it is considered a perfectly reasonable, non-harmful, morally neutral decision, I was to present it as such. I got to the point where I could hardly contain myself in these appointments. I was desperate to plead with them not to do it. When I knew how far along some of these women or girls were – some 16 weeks or more – I felt physically sick. I had aborted my child at 11 weeks and now as a nurse, I knew what that meant. I had read an account of a woman who had assisted with an ultrasound guided abortion in the United States and how she witnessed that fetus – who was about the same gestational age as my baby had been – try to get away from the suctioning tube.
I was beyond distraught. For months I begged God to heal me. I tried to face my feelings. One night I sat on the couch in our living room and tried to think of exactly what I had done, to allow myself to fully feel the pain of it in the hopes that it would somehow bring me healing but it didn't. God took me half way round the world and in Australia at the Hillsong conference while listening to Joseph Prince speak about grace, God met me and revealed His grace to me. It wasn't something I could do for myself. I couldn't pray hard enough for it, I couldn't be "good enough" for it, I couldn't get it if I was "sorry enough".  Grace was offered to me not because of anything I could do but because while Christ was on the cross, I was on His mind. His grace was offered for me in advance, knowing what I would do, knowing I would choose this horrible thing, with no real reason.  My boyfriend owned his own business, we had lots of money and a house, we weren't lacking for anything, he wasn't an alcoholic or a drug addict, he didn't cheat on me or beat me.  There was no real reason except how lost and emotionally damaged I was. I had grown up in the church and I had never agreed with abortion before. But now, faced with this decision, I chose to end a life. I even purposely avoided pro-life counseling agencies. The night before the procedure, I was so distraught I was literally hyperventilating and I believe it was the Holy Spirit stirring within my spirit. And still I did it. Deliberately. But praise God, He deliberately, intentionally, knowing all that and more, died to give me His grace. And at the right time, because my heart loved Him and was pursuing Him, He poured His love so deep into my heart it washed out all the heart ache, all the condemnation and all the darkness I had put there, all the darkness that Satan tried so hard to keep there. In that moment I literally felt as though I had never had an abortion!  In fact, the feeling was so strong that I wondered how I would ever give this testimony!! "As far as the east is from the west, so far has He removed our transgressions from us." (Psalm 103:12) I have now experienced what that verse means.  It is no longer just head knowledge – it has been revealed in my heart.
And God, in His extravagant grace, didn't stop there. He showed me that my daughter – I believe it is a daughter – that my daughter is waiting for me in heaven and that she is longing to run to me, throw her arms around me and tell me she loves me! How great is the mercy of God that He should care for me. And not just me, but anyone who calls on His name! You might be thinking, "well you don't know what I've done" – but God does! And knowing all things He says that anyone who calls on the name of the Lord WILL be saved. (Romans 10:13) And when we accept His salvation that means that everything He accomplished at the cross – salvation, healing, restoration – all these things belong to us as believers. For all the promises of God are yes and amen in Christ. (2 Corinthians 1:20) The Bible tells us, we ARE the righteousness of God in Christ! (2 Corinthians 5:21) We ARE – not we are going to be but we ARE!! Remember what I said at the beginning? We labour to enter into His rest. That means that God asks us to work – not to do "things" but to enter into His rest because there is no other work for us to do – He has already done all the work!! So if you have an issue or an area in your life that is keeping you under condemnation or in bondage, seek Him! If you're scared or anxious about life's circumstances, seek Him!! Speak the Word of God, the Word of Life, into who you are: for "since we have been justified through faith, we have peace with God through our Lord Jesus Christ, through whom we have gained access by faith (not works!) into this grace in which we now stand. And we boast in the hope of the glory of God." (Romans 5:-1-2) And if you don't know Jesus Christ as your personal Saviour and Lord, know that you are not here tonight by accident.  Jesus is calling to you. He wants you to know that this message is not just for everyone else, it is for you.  When He was on the cross, you were on His mind.  He wants to offer you freedom from your past.  You can ask Him to forgive your sins, come into your heart and make you who He created you to be.  His grace is here for you.  And I know, something good is going to happen! Amen. Let's pray.
Related articles